So, you've heard the success stories of creators making a fortune on OnlyFans and wonder if you can achieve similar success starting from scratch.
The truth is, it's absolutely possible to build a thriving OnlyFans presence without a pre-existing following. While it might not lead to overnight success, this 8-step guide will help you navigate the path from 0 followers to earning $1,000 a month within 2-6 months.


Realistic expectations are key. With dedication and consistency, you can expect to reach the $1,000 per month milestone within 2-6 months.
From there, you can continue to scale your income, gradually working towards $5,000 and $10,000 months.
Now, let's dive into the steps to kickstart your OnlyFans journey.
Step 1: Make OnlyFans account
Choosing a niche is crucial for standing out and attracting the right audience.
Your niche encompasses your content style, audience, branding, and online persona.
Some popular OnlyFans niches include Bratty, Pornstar, Kawaii, Anime/Cosplay, Findom, MILF, Athletic, Yogi, Fitness Babe, College Sl*t, Dominatrix, Stoner, and Squirter.
Successful creators in your chosen niche can serve as inspiration. Study their branding, online personality, and content style.
Consider where and what they post, whether it's on Reddit, Instagram, or other platforms. Align your clothes, props, language, and overall presentation with your chosen niche. 
If you're in the Kawaii/Cute/Cosplay niche here are some content creators worth checking out

NSFW LINKS:  
It's a good idea to link your stage name to your niche too.
For example "lilykawaii" literally has her niche name – "kawaii" – in her username. 
Anyway, if you are willing to know more about niches, we really recommend you to read this complete guide we have made about OnlyFans niches.
Step 3: Invest in a Starter Kit
Quality content is non-negotiable on OnlyFans. While you can start with a modern smartphone, enhancing your setup with a few affordable tools can make a significant difference. If you're on a budget, a tripod with a Bluetooth remote control and a ring light are excellent investments.
A tripod with a remote control allows you to capture well-framed shots without assistance. You can find affordable options on Amazon for around $20.
Good lighting is equally important, and a ring light can elevate the quality of your content. If you have a newer iPhone, you likely already have a high-quality camera.
For those willing to invest more, there's an Ultimate Equipment Guide available for further recommendations.
STEP 4: Create a minimum of content
Note: This is our recommended beginner content strategy for how to start an OnlyFans without any followers. BUT it is NOT the only strategy to make money on OnlyFans when starting with 0 followers – we just wanna share this as an example because we've seen a lot of models having success with this strategy.
In order to make $1,000 on OnlyFans as fast as possible this is our recommended 3 step strategy.
Make your OnlyFans page free or offer a 30-day free trial




(or have a low sub price like $4-5)

Focus on ModelSearcher and Reddit promotion

(these two are the best platform when starting with 0 followers).

Sell PPV (Pay Per View Content) on OnlyFans in the DMs.
What is the logic behind this set-up?
The idea is that most of your income will be generated by selling PPV (Pay Per View) and custom (e.g. a custom video of you doing X) content on OnlyFans.

That's why you need a free page, a 30-day free trial, or at least a low price.
Because you want the opportunity to sell to as many people as possible.

You need people on your OnlyFans page so you can actually DM them with enticing offers & captions.
Here's what you need to get done
You need:
✅ Create a free account at ModelSearcher.com
✅ Create a free account on Reddit.
✅ A list of subreddits to promote to (read this if you don't know what subreddits are).

✅ 30-50 teaser style pics for promotional purposes.

✅ A content menu of stuff to sell on OnlyFans (customs and PPV).

✅ 3-5 gifs / short videos for promotional purposes.
AND MOST IMPORTANT

✅ 3-5 pre-recorded videos that you can sell in DMs.
SO, THIS IS THE PLAN: You will promote yourself in this two platforms to get new fans and redirect them to your OnlyFans account. As you have no followers to start with, this platforms will be your ally in getting to reach new potential customers.
THE KEY: Be consistent on them. Post every day, 2 – 3 times per day. A lot of teasing photos, videos, gifs, etc. So you will ensure you have an active presence in both of them and people will see you are an active creator and will follow you on OnlyFans for sure.
Here you have a complete guide on how to get started in ModelSearcher.com and another complete guide for Reddit.
ModelSearcher.com and Reddit as the best options to make money on OnlyFans without Followers
Step 5: Create a Content Strategy
Once you've defined your niche and acquired the necessary tools, it's time to plan your content strategy.
Consider the preferences of your target audience and create content that aligns with your niche. Diversify your content to keep subscribers engaged, incorporating a mix of photos, videos, and exclusive behind-the-scenes glimpses.
Consistency is key on OnlyFans. Establish a posting schedule that works for you and stick to it.
Engage with your subscribers through personalized messages and exclusive content.
Building a connection with your audience will encourage long-term subscriptions and tip contributions.

The scheduling tool in OnlyFans is a great tool to organize your week or month previously so you never run out of content:
Step 6: Set Up Your OnlyFans Sales Funnel
A well-structured sales funnel can significantly boost your conversion rate.
Direct potential subscribers from your social media platforms to your OnlyFans page by offering teasers and exclusive previews. Use compelling captions and call-to-action statements to encourage clicks.
Consider offering limited-time promotions or discounts to incentivize sign-ups. Create a visually appealing OnlyFans profile with a compelling bio that clearly communicates your niche and the value subscribers can expect. Engage with potential subscribers through direct messages, fostering a personal connection and addressing any concerns they may have.

Networking with other creators can also expand your reach and introduce you to new audiences. Collaborate with creators in complementary niches to cross-promote each other's content.
Participate in shoutout-for-shoutout (S4S) arrangements to leverage each other's follower base.
Engage with your audience and respond to comments and messages promptly. Building a community around your OnlyFans content can lead to word-of-mouth referrals and organic growth. Consider hosting live sessions or Q&A events to interact with your audience in real-time.
There are OnlyFans "search engine" websites out there.
These search engines have thousands of real guys searching for creators to sub to.
Guys are searching for BBW creators, Asian creators, big-booty creators – you name it.
The big players are sites like FansMetrics, Hubite, OnlyFinder, SeachCreator and OnlySearch.
They have:
The most traffic
The most traffic from richer countries (people from India are not gonna buy your OF…)
Think of these sites as kind of like Google but for OnlyFans.
You know the way you see ads on Google like this?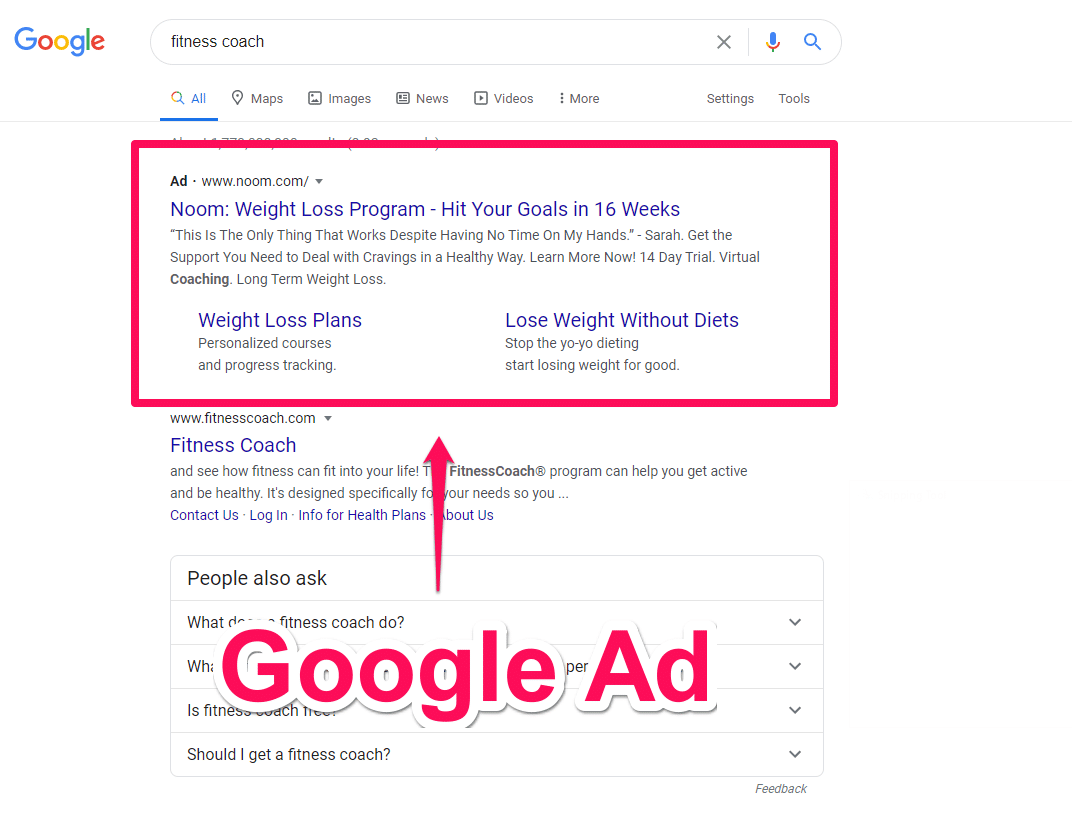 Well, OnlyFans search engines let you do the same thing. You can pay for an ad. That means you will stay at the TOP of the search for a fee.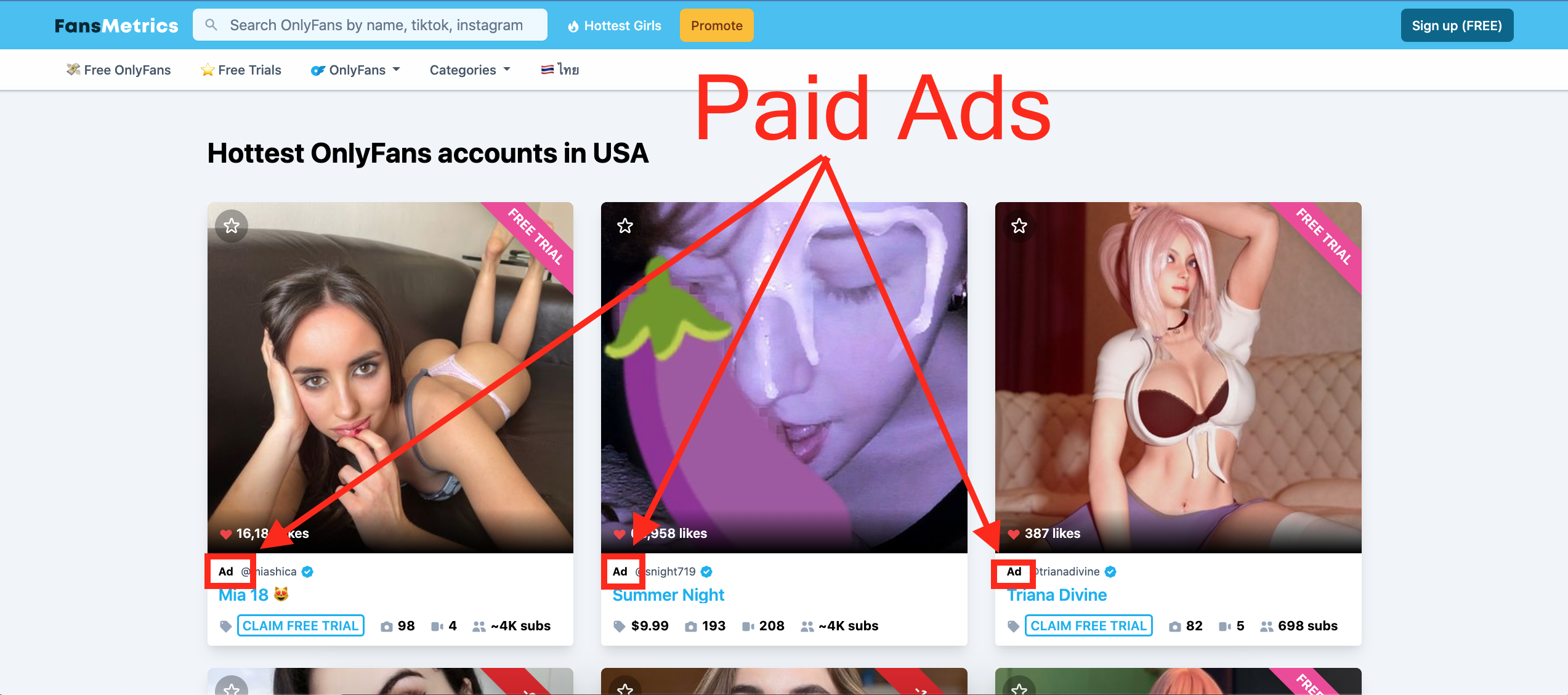 There are THOUSANDS of guys browsing these sites every day. MILLIONS browse every month.
You can verify these numbers on SimilarWeb. 
Below are the monthly visits for FansMetrics ONLY: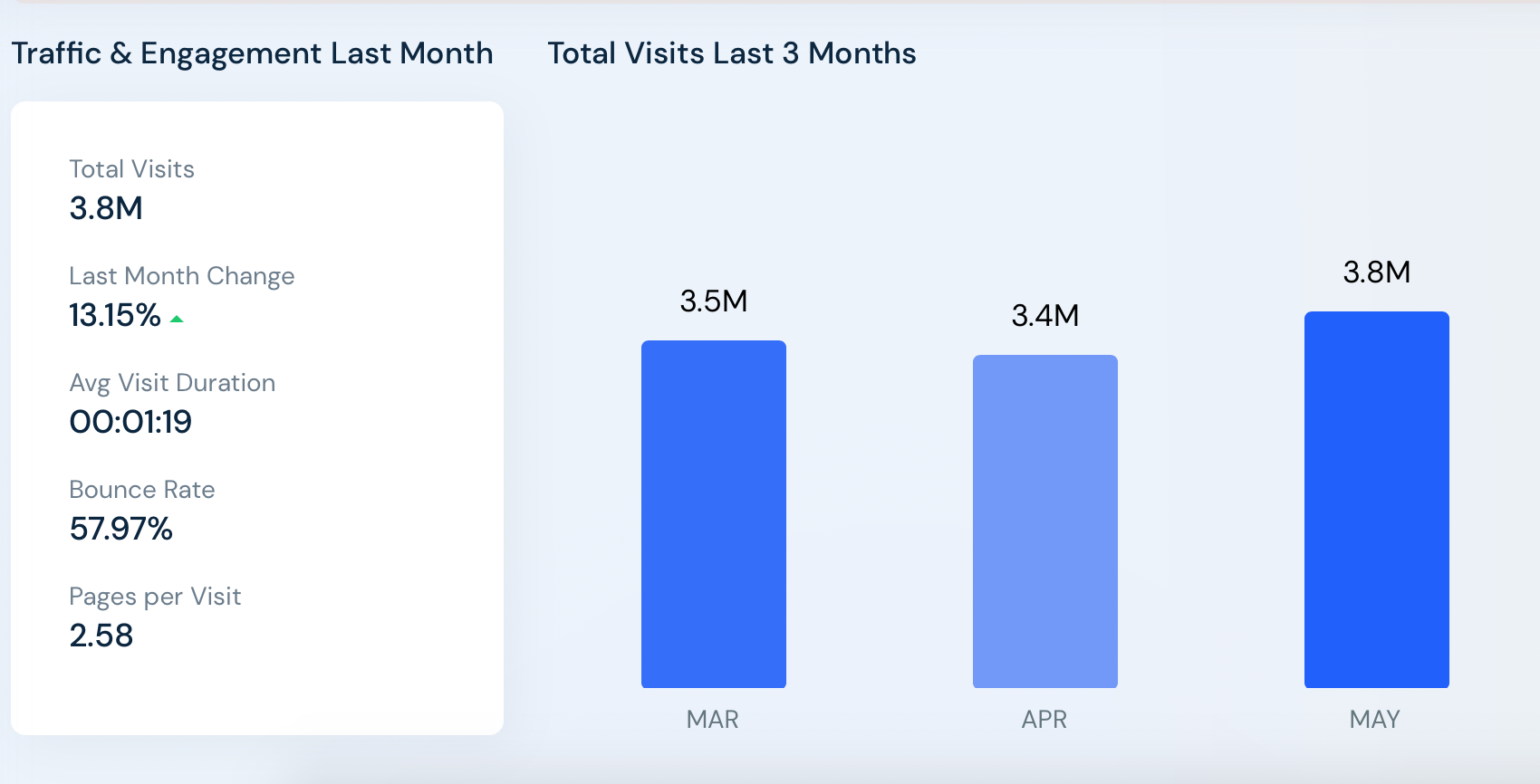 MILLIONS of eyeballs per month on ONE SITE.
But there is also a site where you can buy ONE promotion that promoted you on ALL of the top OnlyFans search engines: CreatorTraffic.
CreatorTraffic allows you to promote an only ad in many sites at the same time. Specifically these sites:
FansMetrics
Hubite
ModelSearcher
FinderFans
SearchCreator
And that's not even the best part. The real beauty of CreatorTraffic is that YOU ONLY PAY WHEN PEOPLE ACTUALLY CLICK ON YOUR AD.
That's call CPC:
When you buy other promos you pay a flat fee to stay at the top of the search reults.
The more you pay the longer you can stay at the top.
But what if no-one actually clicks on your ad in a week, or in a month? What if your promo did not actually work? Guess what? you still lost your money.
That's why CreatorTraffic has revolutionised paid promos for OnlyFans creators.
Because you only pay when someone actually clicks your ad and sees your onlyfans profile.

For more information about how to get started in CreatorTraffic you can read this complete guide we have made here.
In summary, launching your OnlyFans journey without an existing following is entirely achievable with dedication and realistic expectations.
The key is consistent effort, and by following the steps outlined in this guide, you can expect steady growth over time.
Specifically, when starting from zero followers, Reddit and ModelSearcher emerge as the optimal platforms to kickstart your OnlyFans success. These platforms provide a welcoming space for adult content creators, allowing you to post both NSFW and SFW content without the fear of censorship.
Moreover, ModelSearcher stands out as an even more liberating option compared to Reddit, offering a rule-free environment where content creators have the freedom to express themselves without the constraints of subreddit-specific rules and verifications.
In addition to platform selection, we've introduced a proven content and sales strategy that has propelled numerous new models to reach $1,000 per month swiftly.
Whether you choose to adopt this strategy as is, add your unique twist, or develop an entirely new approach, the flexibility lies in your hands.
To further enhance your OnlyFans journey, we introduced the option of paid ads, with CreatorTraffic standing out as the premier choice for OnlyFans promotions.
With a reputation for offering the best promo services in the industry and a fair payment model, CreatorTraffic is positioned to support your growth on OnlyFans efficiently and effectively.
As you embark on this exciting journey, remember that success may not be instantaneous, but with dedication and strategic planning, you have the power to turn your OnlyFans venture into a lucrative and fulfilling endeavor.